Our Location in Chiang Mai

Where we teach

The training program is conducted at the Naisuan House in a tropical roof-top garden environment located in a non-tourist area, approximately 3km from the center of Chiang Mai, Thailand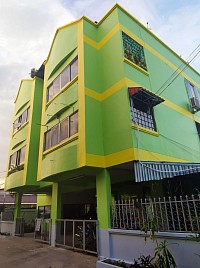 Naisuan House
The Naisuan House

Naisuan House
3/7 Rattanakosin Rd.Soi 1
Chiang Mai 50000
Directions form the Old City

From Chiang Mai Old City follow Rattanakaosin going East to Rattanakaosin Soi 1, just past a Seven Eleven turn left continue down Soi 1 to a Tee junction and turn left then a quick right follow the lane near the end where you will see the Naisun House.
Follow the stairs up to the rooftop garden training area for  check in.
There is no reception on the ground floor.

If your taxi has problems finding the Naisuan House call:
Phone : 085 714-5537